Pinakothek Munich Propylaen
King Ludwig and Neuschwanstein - that is the must see of any tourist to Bavaria be he Japanese, American or from any other advanced society that never knew what a monarch can do for his country. What King Ludwig did at a time when Edison's electrical light bulb started to enlighten New York was - except sponsoring Wagnerian opera events - to have castles constructed that were so way beyond the rationalism of the scientific and industrial age that they did well as a model for Walt Disney. Well, King Ludwig was said to be crazy.
Before him, Bavarian rulers tried to act more serene and moderate. They took to Renaissance and Greek classicism to glorify the status quo. Got to the Propyläen and the Glyptothek - a large square surrounded by various Greek temples and thoroughfare. And some 100 m south there is a black monolith commermorate the death of several 10 000 Bavarian soldiers in a war against France 1878 (that brought about German unification). A memorial in Egyptian and Greek style for a war at the edge of the 20th century, well, no wonder the devastating effects of machine gun and modern bomb shells came to a surprise only some 35 years later and cost the lifes of millions of soldiers.
Take a rest from any such kind of thoughts at the Lenbachhaus nearby. It is a public art gallery featuring very up to date exhibitions by avantegarde artists. That villa has its name from the former owner, a very renowned painter and portraitist that came to wealth in the late 19th century. Enjoy Pinakothek Munich Propylaen.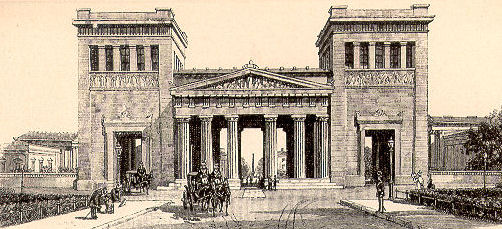 Less bourgois are the royal art treasures put on exhibit in the Alte Pinakothek and the Neue Pinakothek, the latter just oppsite the street. There, you will find large canvasses painted with scenes of glory and slaughter, all kind of story telling paintings in oil by such famous aristst like Rubens. There is cabinet art by Albrecht Dürer and others as well.
If you are lacking of hints and clues to what those scenes are depicting because you just never knew about mythology then take a squander to Pinakothek der Moderne. That is a large museum of modern art, with changing shows and - recommended - hosting the "Neue Sammlung" which is an extensive collection of industrial design of the 20th century. So if your favourite BMW was not on show in the BMW museum you might find it in the Neue Pinakothek.
Here you can find a collection of links with further Informations about the Pinakothek Munich Propylaen.