Tollwood Munich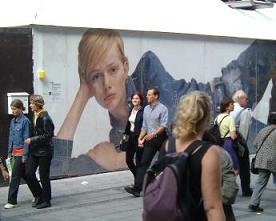 "Tollwood" - where does is get its name from? Probably the organizers don´t remember. They have come a long way since 1988 - the year they´ve started. Those folks' idea of organizing a woodstock like festival in outer Munich's open air surely knew when they took to the word "Toll" that means "Great" in German, with an exclamation mark.
And so it became - maybe the largest open air event in Germany or Europe: More than one million visitors last year. From June 16 to July 19, 2005 the annual Tollwood festival will take place in Munich Olympiapark - an area which is one of the attractions of the Bavarian capital. Constructed for the Olympics of 1972 the architecture is astounding and still appears as it was built yesterday.
In these surroundings - surmounted by the Munich television tower and next to an artificial hill out of bricks and mortar that remained when the debris of world war II's bomb attacks was cleared by German housewives - in these surroundings you will find one of the "simply best" open air programs of this summer. So leave your tv-set at home and get your things together for a couple of days under the Bavarian sun. You surely won't regret it because there is something for everyone. Choose among a wide variety of pop, folk, rock concerts, chanson and cabaret events (in continuation of Karl Valentin - a comedian every true citizen of Munich knows), take part in wellness workshops or just wander around the food & beer stalls that sum up to one of the largest holidays fields of this summer in old Europe.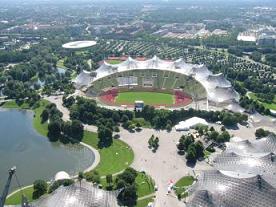 Some of the stars performing a one night gig are: Meat Loaf, Jethro Tull, Styx & Kansas, Peter Frampton, Udo Lindenberg (who maybe is the most known German rock star of the 70ies and 80ies). There are also modern bands like "Juli" who just had some number one hit in the German charts. If you are in your 40ies, 50ies or 60ies bring your kids along. Tollwood will teach them everything they must know about the elder ones.
But aren´t we still children too? If you are interested in stage play and drama, comedy and what's life about in common. You will not regret your journey to southern Germany's metropolis:
On "Theater Island" there are actors's company that don´t need German or any other oral language to transmit their thought or feelings. Sèmola Teatre uses body talk, whispering softly, their wit being of a low key, humoristic kind. The like, Circolando and Teatro de los Sentidos incoporate all sorts of movement and gestures into their play thus speaking an internationally accessible language of senses.
Yoga, Tai Chi and Qi Gong are being practiced in workshop like events and you might get an introduction to these realms of well being by taking part.
Ticket hotline 0700- 38 38 50 24 (12 cent/min.)
Homepage: www.tollwood.de
Opening Hours:
Mon - Fr 2:00pm - 1:00am
Sat/Sun 11:00am - 1:00am
Market of Ideas until 11.30p.m
Among the booths at "Market of Ideas" fair a visit to Stadtwerke Munich might be of interest. The Munich "power central" offers glasses of water at the "Water Bar". The price is 1 Euro, which goes directly to charity. You might get some information about how Munich authorities got together with the peasants responsible for ploughing the fields where Munich drinking water comes from. An area of 2500 acres that is now being cultivated according to ecological standards saving on nitrate saves the water resort.
Some of the better known names among the 25 stars appearing on stage:

Udo Lindenberg & Panikorchester
Udo Lindenberg "a living legend of German rock and supporter of peace and justice" (quote Tollwood homepage) is friend to the German chancellor Gerhard Schröder and probably among the five most popular truely German rock stars if not the most famous of all times.
www.udo-lindenberg.de
Monday, June 20
admission from 28,50
Jethro Tull
»Live 2005 Tour«
& Special Guest
Almost all the original band members join Ian Anderson in his come back to stage. Of course, classics like "Aqualung", "Locomotive Breath" will be among the songs blown in the wind.
www.j.tull.com
Tuesday, June 21, 2005
admission from 27,50 Euro

Meat Loaf
»Live«
& Special Guest
"Bavarians translate: hamburger patty" so they say at Tollwood's homepage. What they didn't say: there is a typical Bavarian meal that might stir you up you symphony of jaws: it is called "Leberkäs" and you might take a bite into it at one of the "world food" stalls before getting back to the "Bat Out of Hell" from 1977 also appearing in "Rocky Horror Picture Show".
www.meatloaf.de
Wednesday, June 22, 2005
admission from 30,50

Status Quo
»40 Years Jubilee«
Special Guest: FREAK FLAG
Gonna do their "Rockin' All Over the World", "In the Army Now" and "Whatever You Want".
www.statusquo.co.uk
Friday, June 25, 2005
admission from 25,50
..
Peter Frampton
»NOW« Peter Frampton comes alive
Special Guest: TONY NASH TRIO
More than 10 million copies of "Frampton Comes Alive" were sold in the Seventies.
www.frampton.com
Monday, July 4, 2005
admission: from 23,50

Joe Cocker »Heart & Soul Tour«
Special Guest: THE SEER
"He will be the biggest rock star that Tollwood has ever presented.", quote Tollwood homepage.
www.cocker.com
Wednesday, July 6, 2005
admission from 35,50
Juli »Es ist Juli«
Special Guest: TELE
"... the hippest German band will be appearing at Tollwood".
www.juli.tv
Thursday, July 7, 2005
admission from 15,50
Marianne Faithfull
»World Tour 2005«
Special Guest: FERNANDO SAUNDERS
Saturday, July 9, 2005
admission from 23,5


Jovanotti
Massive Töne
"This is a must for real hip hop fans!"
www.massivetoene.de
Sunday, July 10, 2005.
admission from 23,50



The official homepage of the City of Munich www.muenchen.de lets you know what's up at this year's Tollwood festival - and still, that is not everything there is in Munich this summer.
If you happen to plan your winter holidays - keep in mind that there is a winter edition of Tollwood. Just one idea among the many: buy a cheap aircraft ticket to Friedrichshafen for skiing or skating in the Suisse/Austrian alps, tour the Bavarian mountains and then get your flight back at Munich airport.